Reports claim that there is a topical coral in Australia that has the genetic compound to fight UV rays. When the fish eats the coral, the compound gets absorbed by the fish.   Researchers think that this could help people be protected from the rays of the sun in the long run.
Researchers are planning to turn the coral into a pill so that it could be swallowed by person.  Researchers got the idea from the fish that are eating the corals, who in turn becomes the food for a larger fish.  Scientist believes that if the fish could get the same benefit from the coral then we could also benefit from eating the coral.
Senior lecturer in pharmaceutical science at King's College London, Paul Long, says the new study does not mean that people should throw away their sunscreen yet since it would take around five years before a pill made from the Australian coral could be available.
Long is the leader in the three-year research project, which gets its finance from the government.  The whole study is about the potential of sun-shielding compounds in Acropora microphthalma coral.  Lon and his associates are trying to figure out the biochemical secrets of these chemicals, extracted from coral samples gathered during night dives.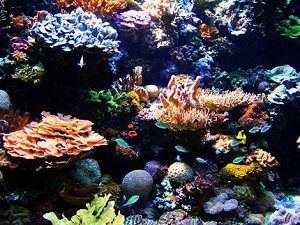 Long claims that the algae that live in the coral are responsible for making the compound,  transported into the coral.  The coral then change the compound into a form of sunscreen, which protects both the coral and the algae from the heat of the sun.  He added that the fish feeding on the algae on the coral, also benefited from the sunscreen protection.
Since the coral is endanger, it would be harder to find and mass produced the particular coral.  Scientists aim at creating a synthetic version of the coral compound.  Long has proposed scientists might find a prepared supply in excess skin, considered as useless by plastic surgeons after tummy tucks. Only after, scientists discover how the compound could influence skin cells.  Only then  that they could begin working on a pill, which would guard skin throughout the body and the eyes that can be hurt from the effects of UV light.
A crucial matter for researchers has to do with determining how the compounds' UV-blocking properties might get in the way of the body's production capability of Vitamin D, often called the sunshine vitamin. Vitamin D comes either from direct contact with the sunlight, or from dietary supplements.