Near about a million of the people in the UK are risking ill health due to keeping of their diabetes secret, which is according to a survey that is generally found one in three along with the condition of concealing it.  Also the research by the Diabetes UK stated "There a half of them is almost felt for not to talk about their condition which affected them and how they managed it." There's some respondent of this survey for the charity declared that they always missed insulin injections as well as testing of their blood glucose in order to avoid drawing attention to themselves.

Those people who are aged between17 to 21 were most likely wants to keep their condition in secret; in this purpose the women are most likely to do so than men. Moreover there is a quarter half who always wants to hide their diabetes and in this purpose they declared that they feared about discrimination as well as bullying, whenever they were most likely to keep it from work colleagues.
But the main reason for doing this included not wanting diabetes in order to affect the employment opportunities or the people who assuming this condition which mane be resulted for an unhealthy diet. In this matter Chief Executive of Diabetes UK, Barbara Young said "Diabetes can still have with the stigma which many people with the condition put themselves to blame, but being overweight they can even put their link towards type 2 diabetes, also this is not true for 20% of the people who have not been bearing on type 1 diabetes."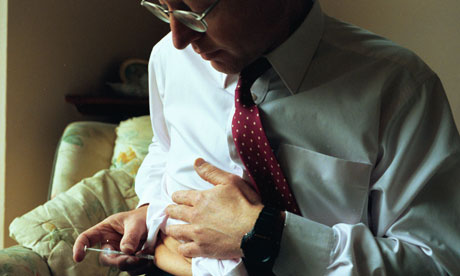 Also they declared that this fear of social prejudice can even make people unwilling in order to open up about their condition which also can have a profound effect regarding their health as well as wellbeing.  So Diabetes UK is aiming now for raising the awareness of this importance of talking about the condition during this Diabetes Week. This charity also wants to raise their funds in order to expand Careline.
But here is a good news that there near about 2.8 millions of the people have yet been diagnosed with their diabetes in the UK.